About asthma
Each year, more than 50 million people suffer from asthma and other related conditions. Through Baylor Scott & White Health's programs, we're here to teach you about pulmonary disease and prevention, as well as offer you advanced diagnosis and treatment for respiratory diseases, such as asthma.
Asthma is a chronic lung disease that inflames and narrows the airways causing periods of wheezing, chest tightness, shortness of breath and coughing. Asthma affects people of all ages, and it is often developed during childhood.

The exact cause of asthma is unknown; however, when some genetic and environmental factors interact, they can cause asthma, including:

An inherited tendency to develop allergies
Parents who have asthma
Certain respiratory infections during childhood
Contact with some airborne allergens or exposure to some viral infections in infancy or in early childhood when the immune system is developing

What are signs of asthma?

Coughing, often worse at night or early in the morning
Wheezing
Chest tightness that may feel like something is squeezing or sitting on your chest
Shortness of breath, having a hard time catching your breath or feeling out of breath

Asthma is diagnosed based on your medical and family history, a physical exam and test results. During the physical exam, your physician will listen to your breathing to monitor for any signs of asthma or allergies. Signs include wheezing, runny nose or swollen nasal passages, and allergic skin conditions. Following test results, your physician will figure out the severity of your asthma, which will determine what treatment you'll begin.

How is asthma controlled?

Asthma is a long-term disease that has no cure; the goal of treatment is to control the disease. Good asthma control will prevent chronic and troublesome symptoms, including coughing and shortness of breath, help maintain good lung function, help maintain normal activity level and sleep through the night, and prevent asthma attacks that could result in an ER visit or hospital stay.

To control asthma, your physician will work with you to create an asthma action plan and can help treat other conditions that can interfere with asthma management, as well.
Asthma treatment
You and your closest family members are the most important people on your asthma treatment team. There are some other important members, too. Along with your physician on the medical staff, your treatment team may include nurses, respiratory therapists, physical therapists, occupational therapists and social workers.
Asthma treatment services include:
Adult and pediatric asthma programs
Testing to confirm the diagnosis and assess the severity of the disease
Development of an environmental control strategy based on your "asthma triggers"
Medication information and education
Peak flow monitoring
Patient and family asthma education based on your individual needs
Specialized asthma treatment centers
The respiratory specialists in Dallas at the Martha Foster Lung Care Center can help improve your asthma symptoms so you can lead a healthy and productive life. The Martha Foster Lung Care Center's physicians include board-certified pulmonologists and allergists, supported by a staff of registered respiratory therapists and registered nurses. The center offers several asthma treatment options, including bronchial thermoplasty, which may offer lifelong reduction in severe asthma attacks.
Asthma education and support
​​​​​​​​​​​​​
Information about some of our asthma education and support programs.
Asthma outreach program
The Asthma Outreach Program at Baylor Scott & White McLane Children's Medical Center – Temple is geared toward helping patients, their families, healthcare providers and even the community work together to better understand asthma and how to better manage it.
Camp airways
The Martha Foster Lung Care Center in Dallas offers this free program about six times a year for children between ages 8 and 12. Kids enjoy games, prizes and field trips to spots like The Science Place while they learn about peak flow monitoring, medications, environmental triggers and prevention strategies.
DISD Program
In conjunction with the Dallas Independent School District (DISD) and the Dallas Asthma Consortium, the Martha Foster Lung Care Center at Baylor University Medical Center, part of Baylor Scott & White Health and Baylor Scott & White Medical Center – Irving share an educational video to teach school nurses, nurse assistants, and other school personnel how to recognize the signs and symptoms of an asthma attack.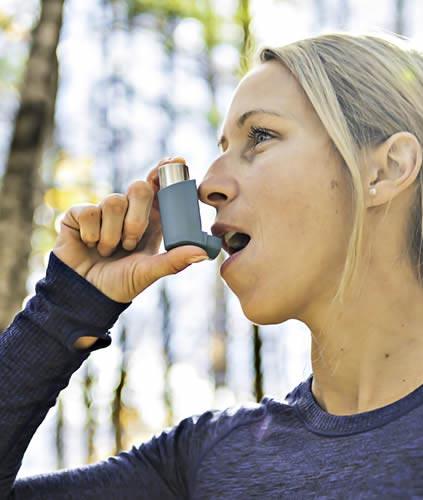 Rules of Two®
Mark Millard, MD, a pulmonologist and medical director on the medical staff at the Martha Foster Lung Care Center in Dallas, developed these "Rules of Two®" to help determine if you need more powerful asthma medicine.
Do you use a quick-relief inhaler more than two times a week?
Do you wake up at night with asthma more than two times a month?
Do you refill your asthma prescription more than two times a year?
If you answer "yes" to any of them, talk to your doctor.