Quality comprehensive care for patients suffering from musculoskeletal disorders and injuries
The staff of Baylor Scott & White Sports Medicine and Orthopedic Institute – Waxahachie utilizes a team approach to provide quality, accessible and comprehensive treatment.
Now serving the Waxahachie, Mansfield, Midlothian and Red Oak area, our orthopedic physicians provide quality and comprehensive orthopedic care for patients suffering from musculoskeletal disorders and injuries.
Our expertly trained orthopedic physicians are proficient in performing advanced orthopedic procedures and highly specialized evaluations for the proper identification and treatment of orthopedic conditions.
Insurances accepted
Baylor Scott & White has established agreements with several types of insurance to ensure your health needs are covered.
Insurance listings are subject to change without prior notice. Please call the hospital or health plan to verify coverage information before scheduling your visit/procedure.
Aetna Signature Administrators

Medicare Advantage Plans

Blue Cross Blue Shield - (9)

Blue Essentials

Blue Premier

ParPlan

Blue Advantage HMO

Blue Choice PPO

Blue Premier Open Access HMO

Medicare Advantage - Oncor

Traditional

Indemnity

LocalPlus

Open Access Plus

Children's Medical Center Employee Plan

City of Dallas Employee Plan

American Airlines Employee Benefit Plan

ACCEL Network

Preferred Network

ChoiceCare

Humana Preferred

National POS

Commercial PPO Plans

Superior Health Plan - (1)

Superior HealthPlan - (3)

STAR+PLUS

Medicare/Medicaid Dual Needs Plan: Advantage HMO SNP

Medicare/Medicaid Plan

DART ACO Flex

DART ACO Flex Plus

Parkland Community Health Plan - (2)

CHIP Medicaid

HealthFirst Medicaid

Scott & White Health Plan - (16)

HMO Network - Individual/Family

EPO Network - Individual/Family

2019 BSWH Employee Network - PPO & HSA

2019 BSWH Employee Network - SEQA & EQA

SeniorCare Advantage HMO

SeniorCare Advantage PPO

HMO Network - Group

TRS - Active Care Participants Network

PPO Network - Group

PPO Choice Network

PPO Choice Preferred Network

Cigna PPO Network - Out-of-Area Member Plan

Texas Statewide PPO

PHCS/ARGUS - PPO Network - Out-of-Area Member Plan

EPO Network - Group

McLane Group Network

University Mary Hardin-Baylor - (1)
We're sorry!
We couldn't find any results for ""
Orthopedic services
​​​​​​​​​​​​​Baylor Scott & White Sports Medicine and Orthopedic Institute – Waxahachie offers expertise and orthopedic treatment options conveniently located near you.
Fracture care
Our providers specialize in managing fractures of all kinds, from pediatrics to geriatric fractures. This includes non-operative management with casting and bracing all the way to complex surgical fixation.
Hip and knee revision
Baylor Scott & White Sports Medicine and Orthopedic Institute - Waxahachie specializes in hip and knee revision surgery to replace problematic joints from a previous replacement surgery. Most joint replacement surgeries are successful and last the lifetime of the patient.
Occasionally, however, a prosthetic knee or hip joint may need to be replaced. This can be due to the joint loosening over time, infection, dislocation or other patient-related factors.
Non-surgical sports medicine
Our team provides skilled, non-surgical treatment for all musculoskeletal injuries and disorders. We take care of patients of all ages who have acute conditions such as concussions and fractures to chronic conditions such as arthritis and tendinopathies.
Some of the treatments we use include:
Diagnostic and therapeutic ultrasound
Steroid injection
Viscosupplementation injections
Platelet-rich plasma (PRP) regenerative injection therapy
Concussion management
Nonunion and malunion
A malunion is a broken (fractured) bone that has healed in an unacceptable position that causes significant impairment. A nonunion is a fracture that has failed to heal after several months.
Shoulder surgery
Our team offers advanced solutions for shoulder pain. Some of the conditions we treat include:
Rotator cuff tears
Shoulder arthritis
Shoulder dislocations
Shoulder labral tears
Shoulder AC joint injuries
Fractures around the shoulder (clavicle, humerus, scapula)
Spine surgery
Dr. Ilyas is dedicated to providing comprehensive care for spinal disorders and injuries.
Some of the conditions he treats include:
Cervical, thoracic and lumbar spine surgery
Spinal fusion
Spinal stenosis
Minimally invasive spine surgery
Revision spine surgery
Failed back surgery
Disc herniation
Cervical myelopathy
Spinal reconstruction
Kyphosis
Scoliosis
Lumbar radiculopathy
Sports medicine
In addition to our sports medicine physicians, we have an incredible network of athletic trainers, physical therapists, sports psychologists, medical subspecialists and nutritionists all working as a team to get you back on the field. We take care of all ages and skill levels, from middle school and high school to the collegiate and professional ranks.
Conditions we treat:
Ankle injuries/instability
Cartilage injuries
Concussions
Elbow injuries/instability
Exertional compartment syndrome
Female athlete triad
Fractures
Hip injuries
Hip labral tears/arthroscopy
Knee injuries/instability
Low back pain in athletes
Patella instability
Shoulder injuries/instability
Sprains
Tendon ruptures
Total hip and total knee replacement
At Baylor Scott & White Sports Medicine and Orthopedic Institute - Waxahachie, we specialize in the newest technology and techniques in both total knee and hip arthroplasty. Technology including navigation and robotic assisted total knee arthroplasty, as well as techniques including direct anterior total hip arthroplasty and other minimally invasive techniques when appropriate. These options allow our surgeons to provide you with a replacement that is most personalized for you to maximize your recovery and overall function.
Mobile makes it easy
Just like we make it easy to get care when your child is sick or injured, our top-rated app, MyBSWHealth, can simplify keeping them healthy. The app lets you book appointments, message your pediatrician, view your child's medical records and schedule virtual same-day care from your computer, smartphone or tablet.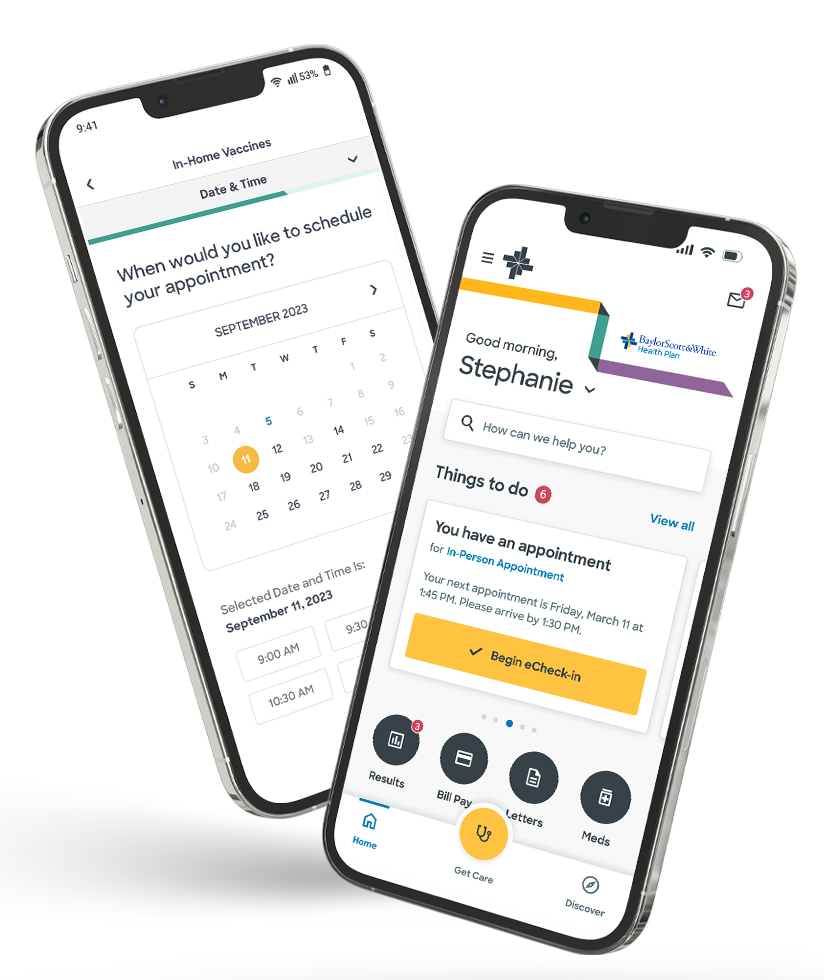 Patient forms
To ensure that your visit to our office is as convenient and efficient as possible, we are pleased to offer our registration forms online. The patient registration form may be completed electronically and printed for better legibility or completed manually.
Ask the Expert
Dr. Zach Hubert explains joint replacement surgery.