Researchers launch new study to understand how face masks impact exercise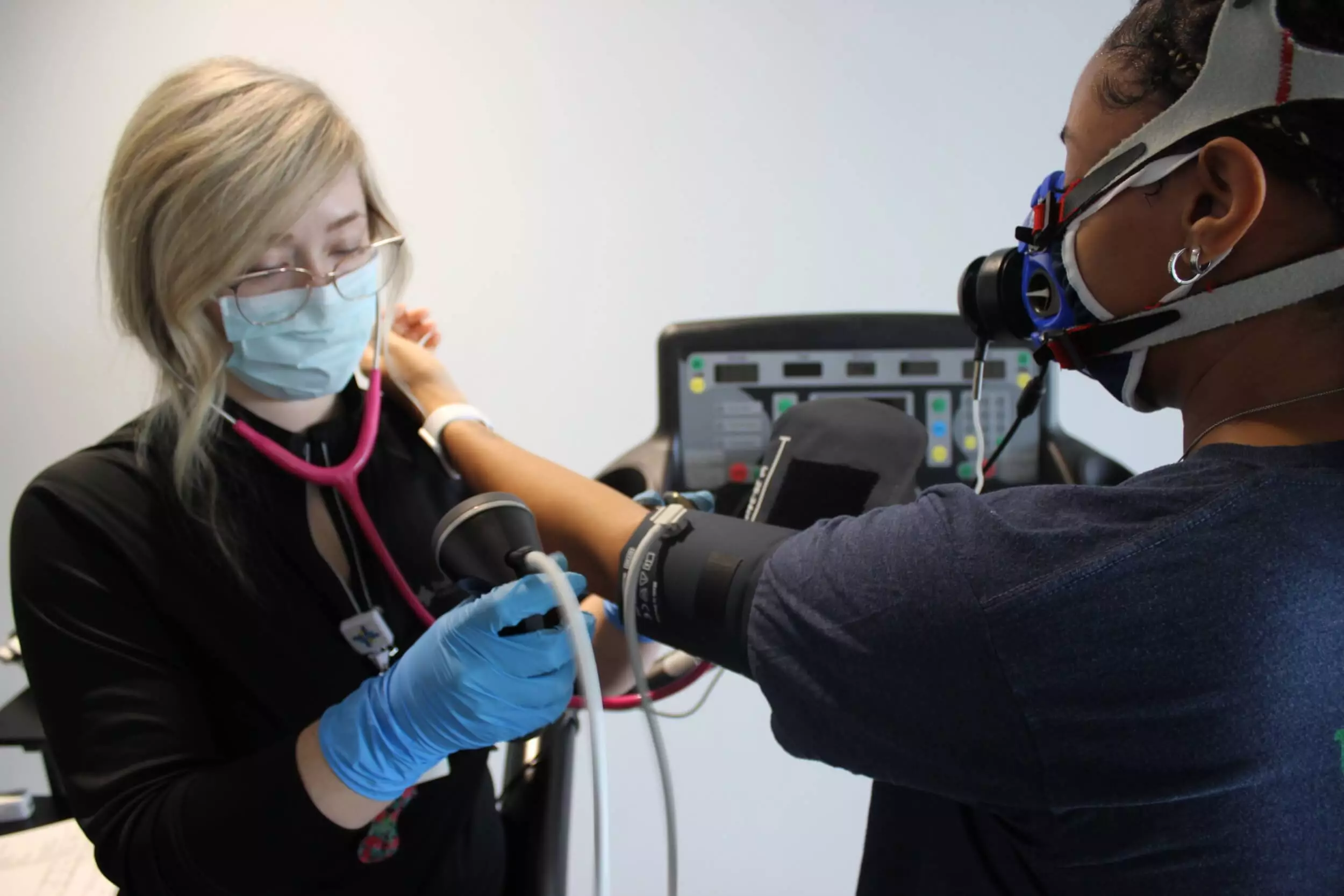 As research continues to advance our collective knowledge around care and treatment options for COVID-19, Baylor Scott & White Research Institute (BSWRI) is also opening avenues of research aimed at helping people adapt their everyday activities to the "the new normal" of today's COVID-19 environment.
While the need for wearing face masks is clear, their use in certain everyday scenarios like working out remains less so. Exercising while wearing a face covering can be a challenge, both physically and mentally, but there is currently no firm data to show exactly how exercising this way can impact the body.
That question is the subject of a new, first-of-its-kind research study at Baylor Scott & White Sports Therapy & Research at The Star: How does wearing a face mask during physical activity impact the wearer's athletic capacity and performance?
The study team firmly believes that if we can learn more about how face masks impact activity, we can help our world adapt to this new facet of life.
A multi-disciplinary research team will oversee the project. Three of the members sat down with us to answer a few questions about this exciting new study:
Simon Driver, PhD, research center director at The Star
Erin Reynolds, PsyD, clinical sports neuropsychologist and director of the Baylor Scott & White Sports Concussion Program
Katelyn D. Brown, MS, EP, CCRP, exercise physiologist
Why study the impact of face masks on exercise?
"Personally, I find it challenging to wear a mask while exercising. This is an opportunity to understand that challenge a little more from a physiologic standpoint and actually look at what really is happening here. Is air flowing the same way? Is it more challenging? How is our performance impacted?
There's no research out there looking at the impact of masks on sports performance. So, we thought we were well positioned here to pull together a team quickly to look at that and inform what we're doing from a sports performance and research standpoint.
Here, we have a great opportunity to pull together specializations in different areas rapidly to meet emerging needs. This is a perfect example where we are able to collaborate with research, with the Sports Academy, with the concussion clinic upstairs, with the psychology team, with cardiology. We have a really dynamic group that we pulled together quickly to look at this innovative idea."
– Dr. Driver
Who can enroll in the study?
"We're looking to enroll 30 total participants — males and females ages 18-29 who are active, healthy and don't have any heart conditions."
– Dr. Driver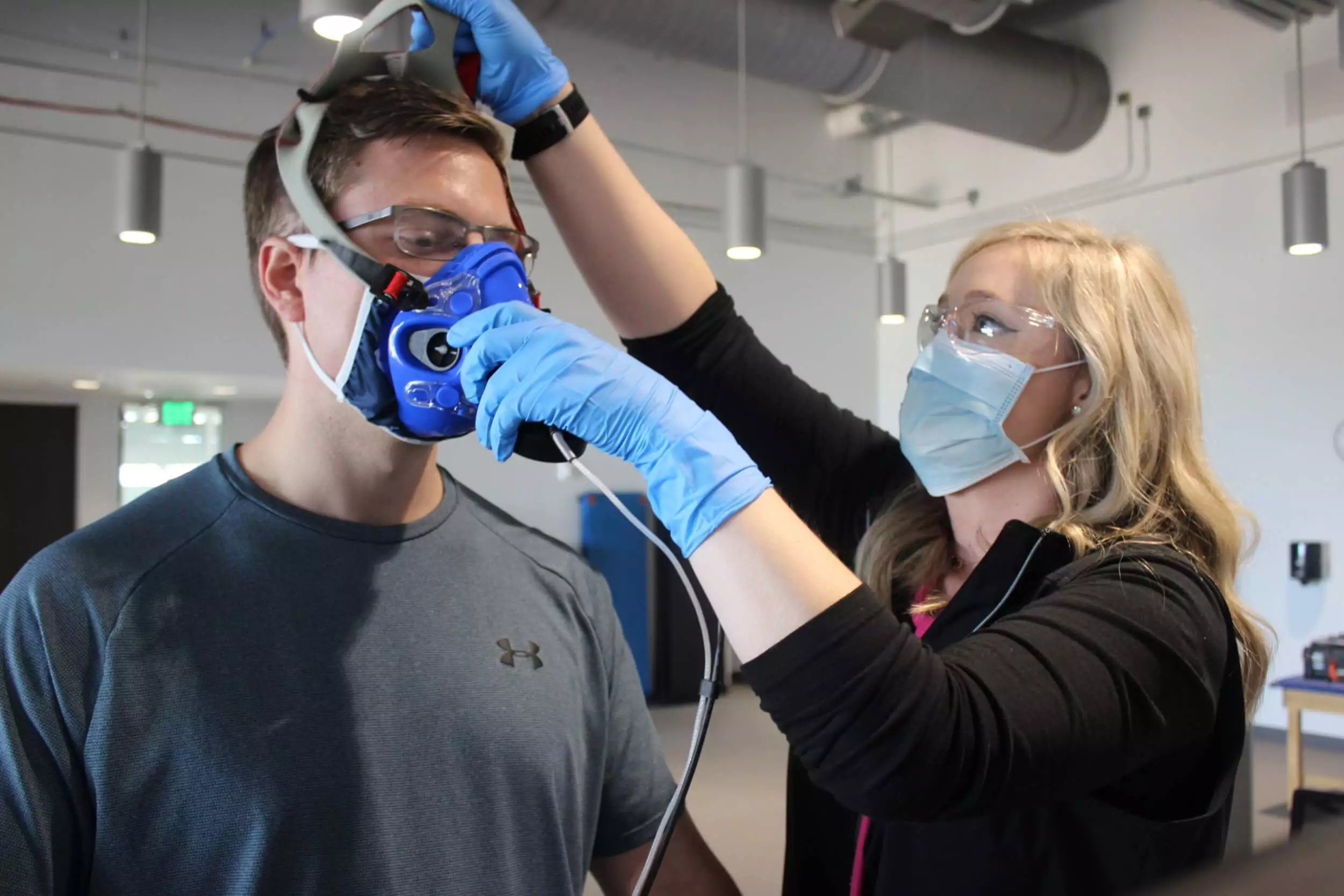 How will you measure the impact of wearing a mask?
"Each participant will perform a cardiopulmonary exercise test, or stress test, with and without a face mask. We'll do what is called a maximal test, meaning it gets harder and harder every three minutes until the participant reaches their maximum. We'll progressively increase their speed and incline until they're unable to perform anymore.
Meanwhile, we'll be measuring factors like their volume of oxygen, heart rate and other cardiovascular and pulmonary variables to see if there are any limitations there. The difference in exercise capacity is what we're going to be looking at between wearing a mask and not wearing a mask."
– Katelyn Brown
What type of mask will be used?
"All of our participants will use standard cloth masks like the type you would see people wearing on the street."
– Katelyn Brown
What implications could this have for the sports and exercise worlds?
"As we try to navigate the world that we're living in, everyone wants there to be sports and we all want to be active and healthy. But we may need to adjust the way that we're operating in the world. So, I think that it's important to consider these things as we're moving forward."
– Dr. Reynolds
"It can be frustrating that you feel like you are not able to perform at maybe the same level you're used to. You may have to change your workout, but there are no recommendations or guidelines on how you change it and whether that's even needed — is it psychological or is it purely physiological? We don't know. So, that's what we're interested in teasing out."
– Dr. Driver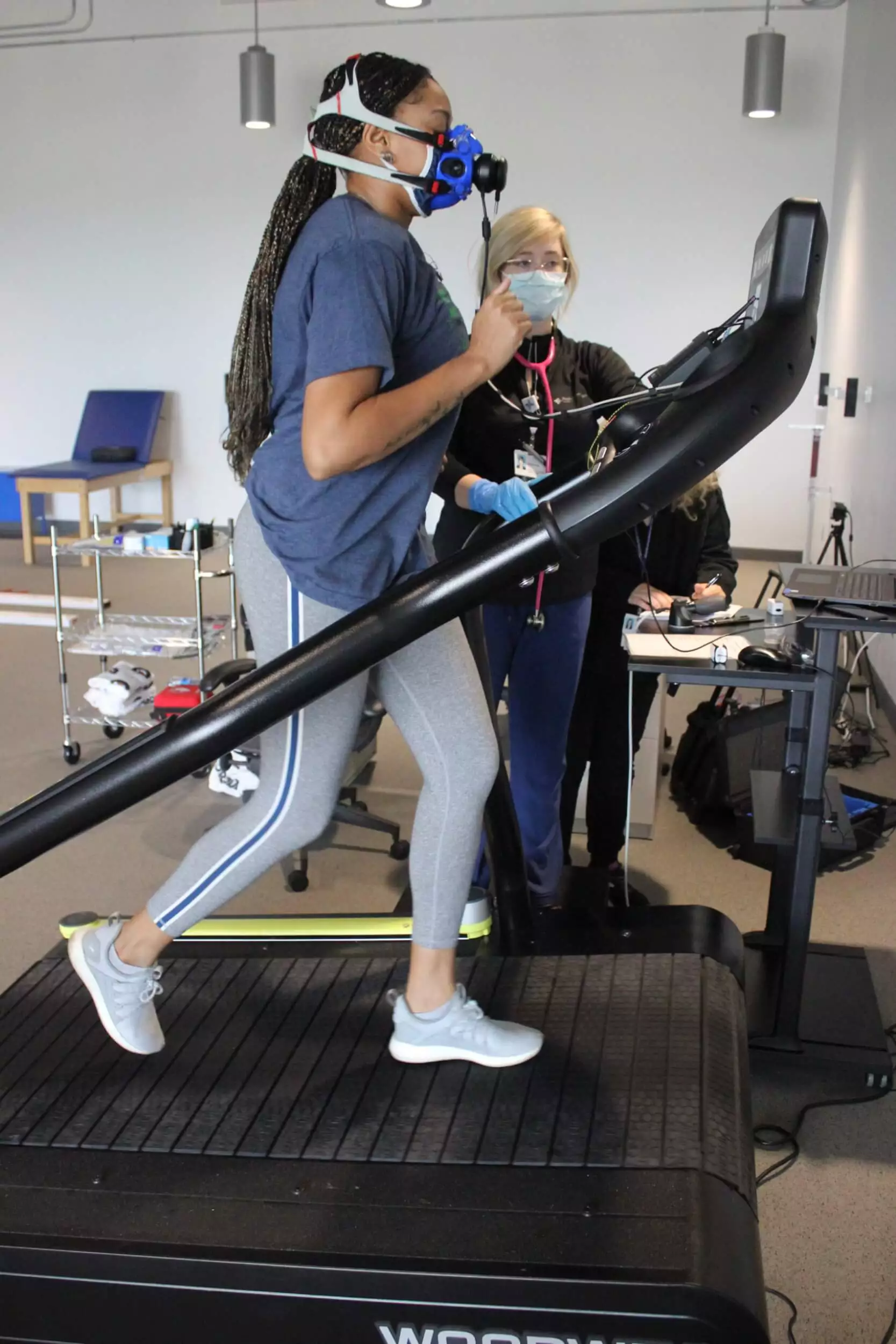 What about the potential mental hurdles of masking?
"There are a lot of psychological aspects to what we're going through right now as a society. One aspect that I'm really interested in is the perceived feelings that someone gets when working out with a mask on. So, not necessarily what their numbers are showing in terms of their oxygen input, but what they are mentally feeling about their workout.
Symptoms of anxiety can be shortness of breath or elevated heart rate, and that's the same thing that athletes could feel if they work out with a mask. So what, from the psychological perspective, I'm interested in seeing, is if we induce these physiological symptoms, is that going to trigger some form of anxiety? And then what's the feedback loop going to be? Is that going to make the symptoms worse and the anxiety worse? Or the alternative could be that the actual act of exercising helps to decrease any anxiety that starts to pop up."
– Dr. Reynolds
Could the study have implications outside of the gym?
"For people who are working while wearing a mask — for example, my wife who works in a grocery store — having some data can help us determine whether people are taking the right breaks and whether their normal work volume is appropriate in a mask.
Long term, who knows what's going to happen with wearing masks into next year and beyond. But there are definitely times with different special populations in clinics across the Baylor Scott & White system and nationally who are wearing masks regularly for a variety of reasons. So, I think this has implications for other populations as well."
– Dr. Driver
To learn more about this study and other COVID-19 research efforts underway, visit the Baylor Scott & White Health newsroom or call 888.50.RESEARCH.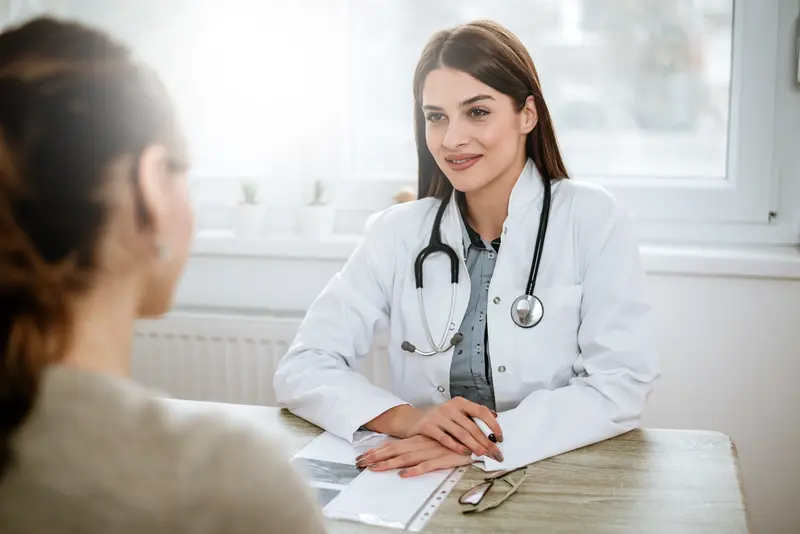 We make it easy.
Healthcare doesn't have to be difficult. We're constantly finding ways to make it easy so that you can get Better and stay that way.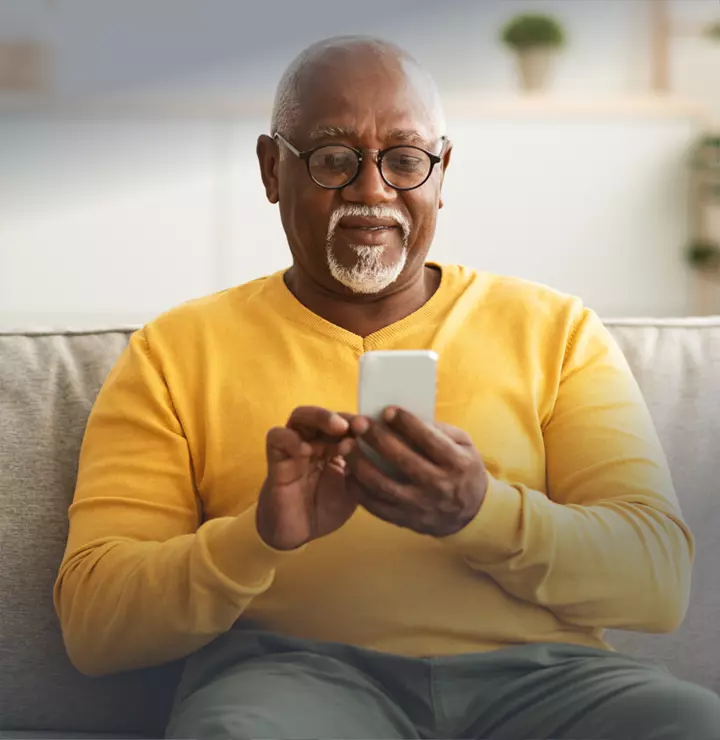 Better

tools make it easier
We all have different healthcare needs. Handle them your way with the MyBSWHealth app. Download the app today and take a hands-on approach to your healthcare.