Grilling outdoors is a great alternative to standing over a kitchen stove when the weather heats up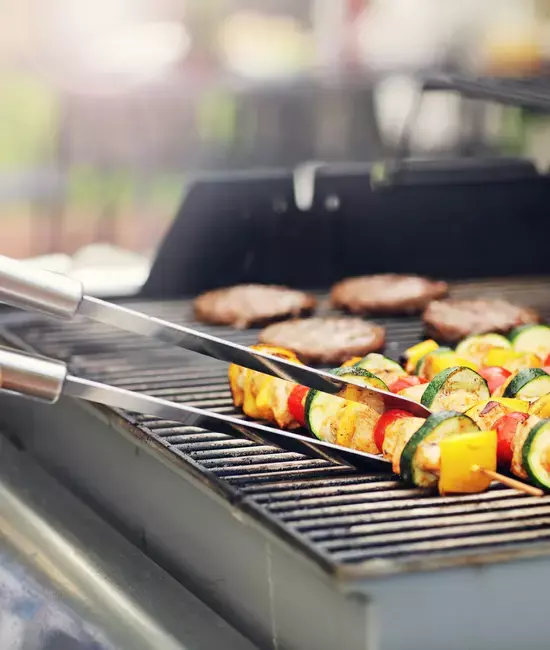 Grilling is also a great way to spend more time outdoors with friends and family. If you live in the South, it is always the season for fun and backyard barbecues!
Here are ten tips for healthier grilling.
Start fresh and clean
Is this the most fun part of grilling? Absolutely not, but starting with a clean grill can help prevent excess smoke and burning, which can lead to bitter tasting food.
Practice safe grilling
Remember to keep raw meat, vegetables and fruits separated, and use a food thermometer to check the internal temperature of the protein.
The perfect protein
Often when you say barbecue, people think of hamburgers, but fish, skinless chicken and lean ground poultry are healthier choices.
Don't skip the marinade
Marinating or rubbing protein with spices is a great way to add over-the-top flavor all while using less salt. Keep in mind that less is more when it comes to marinade.
Go slow and low
Slow down the cooking time, and use a low flow to keep from burning.
Wrap it up
Wrapping foods in aluminum foil is a foolproof method that reduces the likelihood of overcooking.
Choose the perfect side by eating the rainbow
Vegetables are great for grilling; they are high in fiber and low in calories, and you can also use the marinade on the vegetables.
Don't skip dessert
Try grilling up some fruit for dessert! The natural sugar caramelizes in the heat giving them extra sweetness and flavor.
Don't forget to stay hydrated
When you are outside in the heat, it is important to stay hydrated to prevent overheating.
Have fun! Cooking is fun and a great way to test your creativity.
---
Tips courtesy of Kari McDonnough, CDM, Director of Dietary Services and Nutrition
Healthy recipes
Download these heart healthy recipes for easy meal time options.