Welcome to Baylor Scott & White McLane Children's Medical Center – Temple
Baylor Scott & White McLane Children's Medical Center – Temple, a department of Baylor Scott & White Medical Center – Temple, is designed with your child in mind with state-of-the-art technology, equipment and accommodations sized just for children. Our bright, colorful, friendly atmosphere creates a nurturing place for the children of Central Texas to heal and thrive. Our Temple location is also the home of our flagship neonatal intensive care unit, a Level IV NICU.
When your child needs medical care, it is only natural that stress levels rise. A potential hospital stay can create fear or worry for young patients. That is why we created a soothing and familiar environment for your child and you.
A snapshot of our hospital
Our facility focuses on children and their families and offers equipment to suit smaller patients and family-centered spaces.
115 patient beds: 48 private medical/surgical rooms, 16 private Pediatric ICU rooms and 51 Neonatal ICU beds in our Level IV NICU
20-bed emergency department and verified trauma center with Epilepsy Monitoring Unit (EMU) equipped to deal with the most severe pediatric trauma cases
Pediatric surgery with five advanced surgical suites and a three-room procedure suite
Advanced Diagnostic Imaging Center with state-of-the-art MRI and a "Flash CT" scanner that emits the lowest effective level of radiation, reducing risk to smaller bodies, making scan times faster, and requiring less sedation
VeinViewer® illumination device to help access small veins and arteries beneath the skin
ECMO therapy, a lifesaving heart and lung treatment reserved for the sickest of patients
Pediatric and neonatal transport ambulance and helicopter
Medical services
​​​​​​​​​​​​​Baylor Scott & White McLane Children's Medical Center - Temple offers pediatric expertise and treatment options conveniently located near you.
Insurances accepted
Baylor Scott & White has established agreements with several types of insurance to ensure your health needs are covered.
Insurance listings are subject to change without prior notice. Please call the hospital or health plan to verify coverage information before scheduling your visit/procedure.
Choice POS II

Open Access Elect Choice

Open Access Managed Choice

Select SM

Aetna Signature Administrators

Elect Choice

Health Network Option

HMO

Managed Choice

Open Access Select

Open Choice PPO

QPOS

Aetna Whole Health/BSWQA

Baylor Scott & White Health Plan - (16)

HMO Network-Individual/Family

EPO Network-Individual/Family

BSWH Employee Network - PPO & HSA

BSWH Employee Network - SEQA & EQA

BSW SeniorCare Advantage HMO

BSW SeniorCare Advantage PPO

HMO Network-Group

PPO Network-Group

PPO Choice Network

PPO Choice Preferred Network

Cigna PPO Network - Out of Area Member Plan

PHCS/OPTUM - PPO Network - Out-of-Area Member Plan

EPO Network-Group

McLane Group Network

BSW Preferred HMO Network - Group

BSW Preferred PPO Network

Blue Cross Blue Shield - (12)

Blue Advantage HMO

Blue Choice PPO

Blue Essentials

Blue Essentials Access HMO

Blue Premier

Blue Premier Open Access HMO

Medicare Advantage - EFH Retirees

Medicare Advantage - Oncor

ParPlan

Traditional

Indemnity

STAR Kids

Brookshire Brothers - (1)

Self-Insured Employee Plan

Cigna Choice Fund

EPO

HMO

HMO Open Access

HMO/POS

LocalPlus

LocalPlusIN

Network

Network Open Access

Network POS

Open Access Plus

POS

POS Open Access

PPO

Coventry Workers' Compensation - (1)

Coventry Workers' Compensation

American Airlines Employee Benefit Plan

Galaxy Health Network - (1)

ACCEL Network

Preferred Network

ChoiceCare

Humana Preferred

National POS

Commercial PPO Plans

Commercial HMO Plans

Medicare Advantage Plans (exclude Southwestern Health Resources Network)

Independent Medical Systems - (1)

Injury Management Organization (IMO) - (1)

Injury Management Organization (IMO)

Midland Memorial Hospital - (1)

Mother Frances Hospital Regional - (1)

Self-Insured Employee Plan

Occupational Networks of Texas, Inc.

Prime Health Services - (1)

Scott & White Health Plan - (1)

RightCare STAR Medicaid Network

Sedgwick Preferred Network f/k/a Southwest Medical - (1)

Superior Health Plan - (5)

STAR

STAR+PLUS

CHIP

CHIP Perinate

Foster Care

Superior HealthPlan - (4)

CHIP Perinate

Foster Care

STAR

STAR+PLUS

Three Rivers Network - (1)

Tricare Extra

Tricare Prime

Tricare Select

Charter HMO

Charter EPO

Charter POS

Choice HMO

Choice +HMO

Choice EPO

Choice Plus POS

Core HMO

Core EPO

Core Choice Plus POS

Navigate EPO

Navigate HMO

Navigate HMO+

Navigate POS

PPO

Options PPO

Select +

Select HMO

Select EPO

Select Plus POS

STAR

STAR+PLUS

CHIP

STAR Kids

University Mary Hardin-Baylor - (1)
We're sorry!
We couldn't find any results for ""
Mobile makes it easy
Just like we make it easy to get care when your child is sick or injured, our top-rated app, MyBSWHealth, can simplify keeping them healthy. The app lets you book appointments, message your pediatrician, view your child's medical records and schedule virtual same-day care from your computer, smartphone or tablet.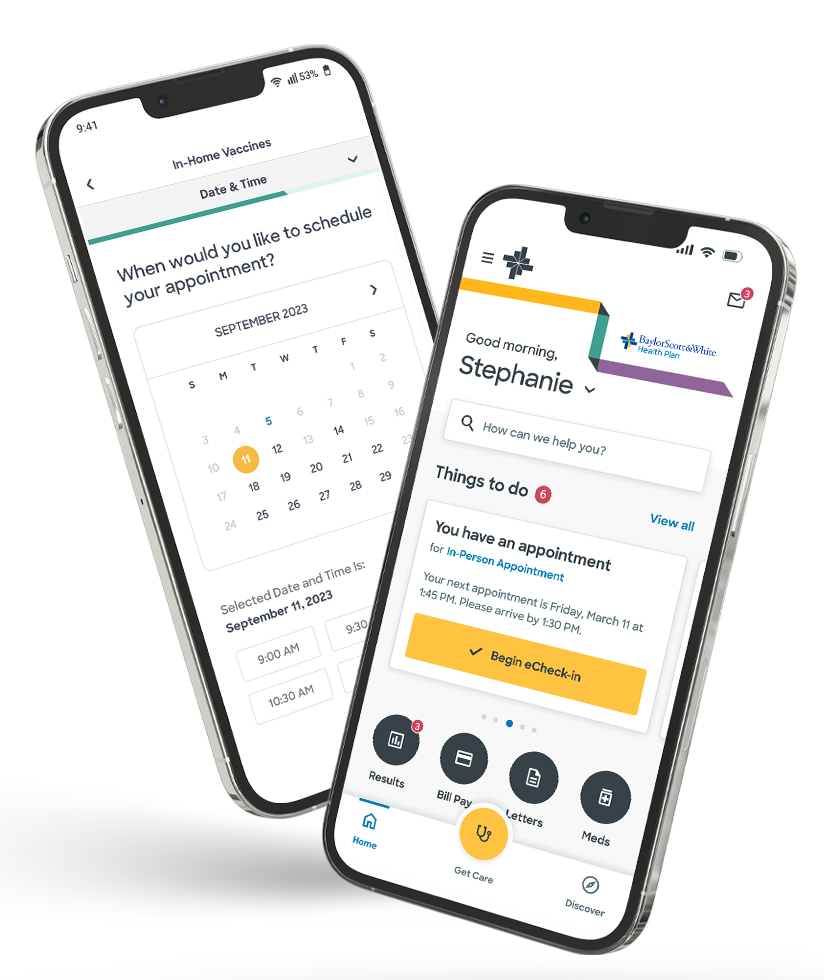 Tools & resources
​​​​​​​​​​​​​
Our services are designed with you in mind so managing your healthcare needs is as simple as possible.
ATMs
An ATM is located near the entrance of the Sunshine Cafe.
About your stay
We want you and your child to feel comfortable during your stay. Find tips for how to talk to your child about an upcoming hospital stay, what you should or shouldn't bring with you and resources available for parents.
Dining options
Sunshine Café
The Sunshine Café offers a variety of dining options, including a variety of made-from-scratch hot meals, a panini station, a salad bar, burgers, jumbo hot dogs, nachos, pre-made salads and sandwiches, homemade desserts and fresh-cut fruit. We also provide a cook-to-order sauté station with daily features, such as stir fry, pad Thai, pasta bars, baked potato bars, flatbread salads, ravioli bars, etc.
The Café is located on the ground floor of Baylor Scott & White McLane Children's – Temple.
Weekday hours
Breakfast: 6:30 - 10:30 AM
Lunch: 11:00 AM - 2:00 PM
Panini station: 11:00 AM - 6:30 PM
To-go items (pre-made sandwiches, pizza, etc.): 6:30 AM - 7:00 PM
Weekend and holiday hours
Breakfast: 7:00 - 10:30 AM
Lunch: 12:00 - 3:00 PM
Enhanced visitor precautions
We understand the importance of parental support, education and bonding throughout a child's hospitalization. Our goal is to ensure your loved one feels supported throughout their care journey while also enhancing protection for our patients, caregivers and visitors.
After a thorough review by our clinical team, our pediatric and NICU visitation policy requires all approved over the age of 16 to use designated entrances, wear a mask and be screened upon arrival.
Contact the unit you will visit to learn more about its visitation policy as additional restrictions may apply.
Our other visitation restrictions remain in effect for our emergency department and COVID-19 patients during this time, except in the following circumstances:
Pediatric/neonatal care patients
Laboring/post-partum patients
Patients undergoing surgery or procedure
Patients with difficulty understanding or making decisions (i.e., may lack capacity)
Patients may be disabled or may be impaired
Patients receiving end-of-life care
As otherwise determined by local facility leadership
Please contact the facility you will visit to learn more about its visitation policy.
Thank you for your understanding and support in helping to keep our patients, caregivers and visitors safe.
Estimate your cost of care
Baylor Scott & White Health advocates for greater healthcare pricing transparency and patient affordability. We provide a self-service price estimation tool to help you obtain accurate out-of-pocket expense estimates and other helpful resources to help you make more informed financial choices about your care.
Family resource center
The Family Resource Center is located on the first floor of McLane Children's Hospital, across from Admitting and adjacent to the Ronald McDonald Family Room. We offer information services and computer stations for patients and their families, as well as for our staff.
We also offer Wi-Fi connections for our patients and visitors.
Gift shop
A selection of more than 300 toys, games, books and stuffed animals is available for children of all ages at our Starflower Gift Shop, as well as cards, candles and home decor.
Gift delivery to patient rooms is available by calling 254.935.4127. Credit cards are accepted.
Hours
Monday through Friday, 9:00 AM - 4:00 PM
Location
Located on the first floor of Baylor Scott & White McLane Children's – Temple
All proceeds benefit programs at Baylor Scott & White McLane Children's – Temple
Recognize an employee
Because our staff cares so deeply for those we help, some often go beyond the call to provide excellent care.
Ronald McDonald family room
The Ronald McDonald Family Room is a suite designed as a safe zone just for parents. Here, parents can unwind and recharge their batteries away from the traditional hospital environment while remaining close to their children. The room is conveniently located next to the front concierge desk on the first floor.
In addition, overnight lodging is available at Ronald McDonald House in Temple.
Spiritual care
We all recognize the importance and value of spiritual care during illness and stress, for parents and patients of Baylor Scott & White McLane Children's – Temple, our pastoral care department is ready to support you and your family 24 hours a day, seven days a week, including holidays.
Visiting hours
All adult visitors to Baylor Scott & White McLane Children's Medical Center – Temple are required to have a photo ID.
Parents are welcome at all times, day or night. One parent may also spend the night in a child's room. Friends and relatives, including brothers and sisters, may visit between 6:30 AM - 8:30 PM, seven days a week.
If your child is admitted to the Pediatric Intensive Care Unit, your nurse will review some additional guidelines for visitation to best support your child and your family during their stay in the unit.
Volunteer with us
Volunteers help us greet and direct visitors and patients to their appointments, deliver gifts to patients, staff the information desk and refreshment kiosks, assist family members in the ICU and day surgery waiting areas and staff the gift shop.