Herd immunity: Why getting the flu shot isn't all about you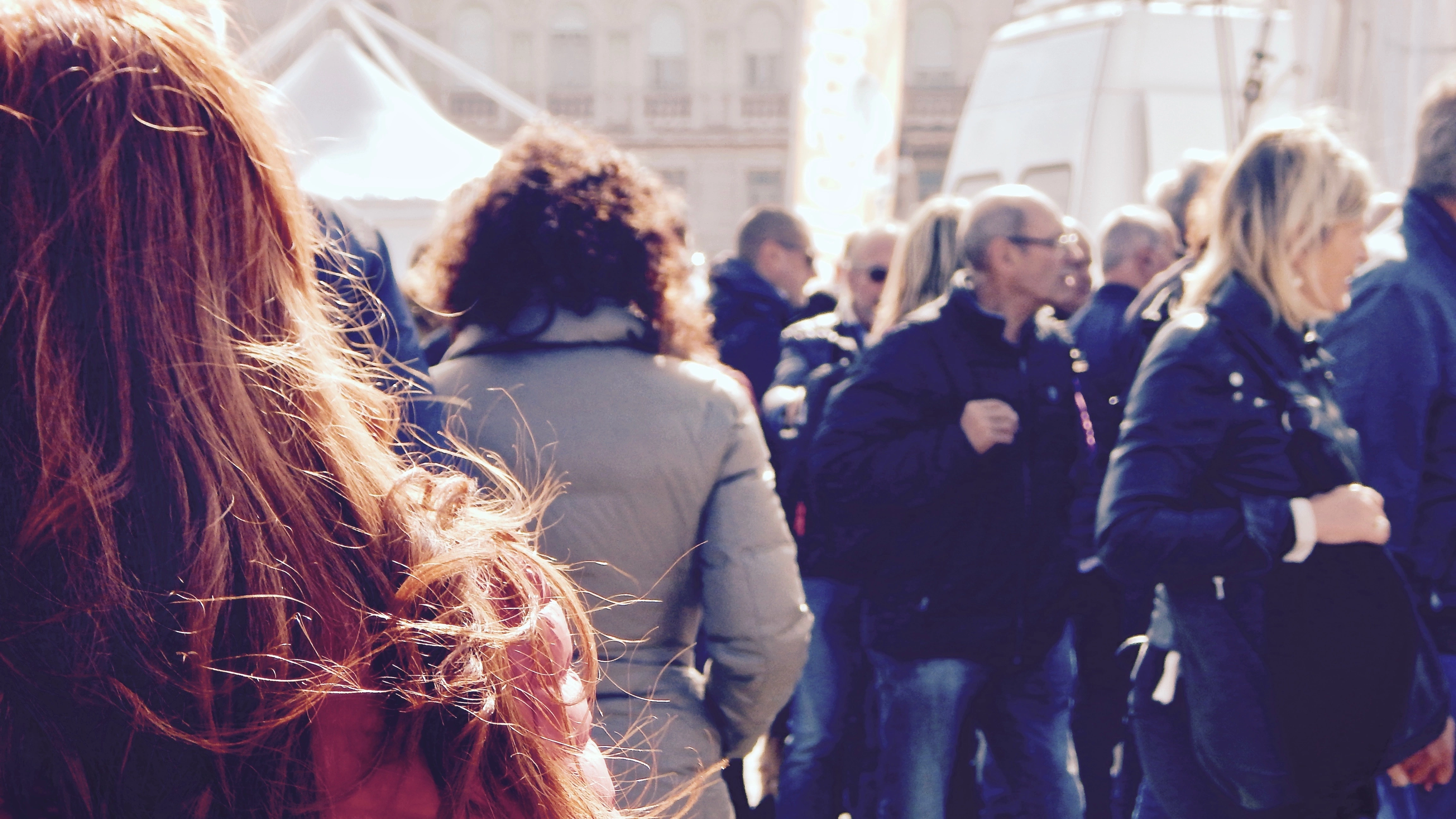 Have you ever hesitated to get the flu shot? Maybe because you didn't have the time, or thought you were invincible to catching the virus?
As flu season is upon us once again, there's something you need to know: Getting a flu shot isn't all about you. It's also about the people who are unable to get flu shots, the ones whose immune systems can't fight off a virus like yours can and the ones already weak from battling cancer and other illnesses.
When you get a flu shot, it doesn't just protect you. It protects all of us.
How herd immunity works
Herd immunity is the idea that when most people get the flu vaccine, it helps protect the population as a whole. This is because there are fewer infected people to transmit the highly contagious illness.
If one unvaccinated person is surrounded by a crowd of vaccinated people, even though they didn't get the vaccine, they're still protected. This is because the vaccinated people around them are unlikely to get the illness and transmit it to them.
"When a high percentage of a community is immunized against a contagious disease, like the flu, most members of the community are protected because there is little opportunity for an outbreak to occur," said John Joseph II, MD, a family medicine physician on the medical staff at Scott & White Clinic – Killeen. "Even individuals who are unable to get the vaccine receive some protection since the spread of the contagious disease is contained."
Throughout history, we've seen times when immunization rates were high and times when they were low, and it certainly makes a difference.
"When immunization rates fall, herd immunity breaks down," Dr. Joseph said. "The measles outbreak and the pertussis outbreaks have been attributed to declines in herd immunity."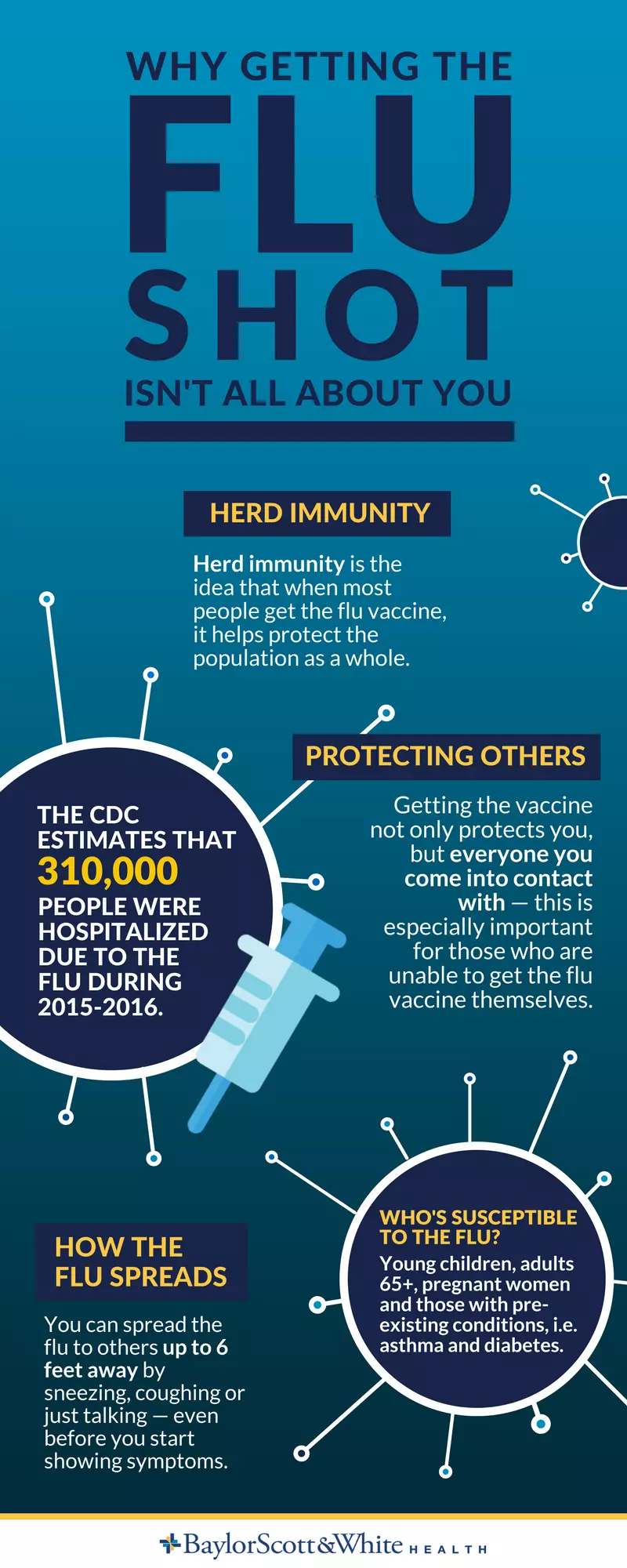 For the unprotected
Of course, the vaccine helps protect you from getting the flu this season, but that's not all it does. It also helps protect everyone you come into contact with, from your grandma to your pregnant friend to the stranger next to you on the plane who can't get a flu shot because of an allergy.
"It's better to prevent disease than treat disease," Dr. Joseph said. "Simply put, the more people who receive the vaccine, the less chance there is for the illness to spread. Vaccination is the most important step to preventing an influenza epidemic."
If enough people like you get the vaccine, it helps protect the entire population.
This is especially important for people who are unable to get the flu vaccine themselves. These groups of people include children less than six months old, people with life-threatening allergies to the flu vaccine or any of its ingredients and people with a history of Guillian-Barre syndrome, a rare but serious autoimmune disorder.
"It's important that everyone who is able to get the flu shot receive the vaccine as it protects you from the influenza infection, and you will also be protecting your family members and others who cannot receive the vaccine," said Sangeetha Ranganath, MD, an infectious disease specialist on the medical staff at Scott & White Medical Center — Temple.
Related: What to do if you get the flu
According to the Centers for Disease Control and Prevention (CDC), you can spread the flu to others up to six feet away by sneezing, coughing or just talking. And you can pass the flu to another person before you even start showing symptoms that you're ill. So, if you do contract the flu, it's almost impossible to keep from spreading it to someone else.
People unable to get the flu vaccine are left unprotected from a very contagious illness. But when a large enough portion of the population is vaccinated, they have a much lower chance of contracting the flu — even without getting the vaccine themselves.
For the good of others
Most people who get the flu will not become critically ill. In most cases, it just means a few days of staying home and feeling miserable. But for some people, getting the flu can lead to very serious complications — and even death.
Young children, adults 65 years and older, pregnant women and those with pre-existing illnesses including asthma, diabetes, cancer, lung disease and other medical conditions are more susceptible to getting the flu and becoming seriously ill. For them, the flu could mean weeks in the hospital.
The CDC estimates that 310,000 people were hospitalized because of the flu during 2015-2016. In 2017, flu deaths topped 80,000.
But you can do your part by getting the flu vaccine for their sake.
If you find yourself thinking maybe you shouldn't get the flu shot this year, remember that you're not the only one affected by that decision. If you don't do it for yourself, then do it for those whose lives may depend on it.
Stop procrastinating. Get your flu shot today.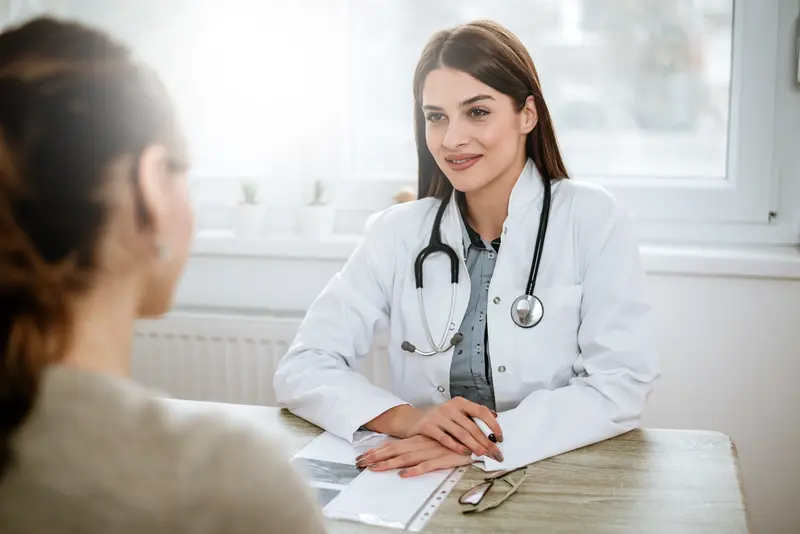 We make it easy.
Healthcare doesn't have to be difficult. We're constantly finding ways to make it easy so that you can get Better and stay that way.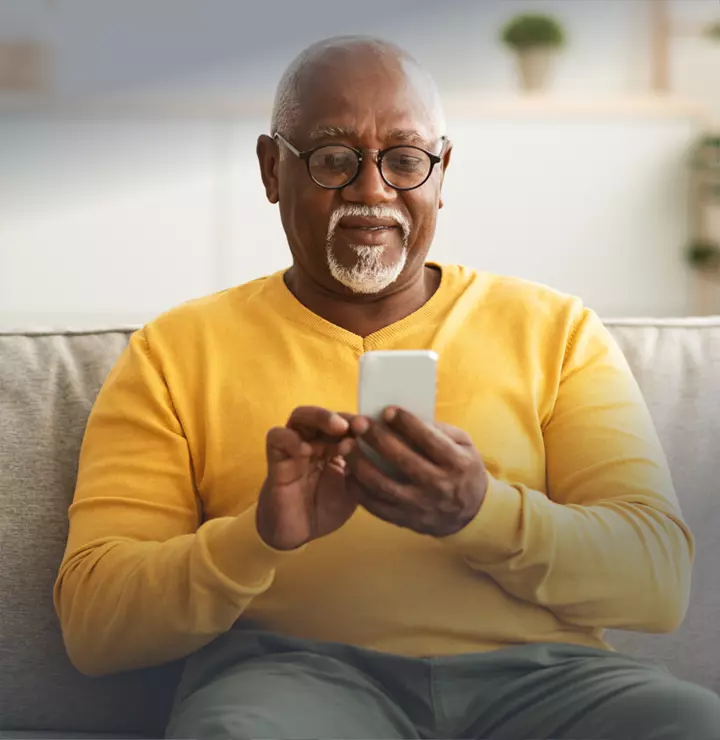 Better

tools make it easier
We all have different healthcare needs. Handle them your way with the MyBSWHealth app. Download the app today and take a hands-on approach to your healthcare.